Olá, a semana começa com mais um cartão de aniversário. Feliz por compartilhar com os leitores e seguidores do blog, mais este trabalho, no dia em que no Brasil se comemora o Dia do Artesão.
O detalhe do cartão são os enfeites em que uso essa telinha de algodão engomada, em tom cru, que gosto muito, e também essa plaquinha em MDF, da Momento Divertido.
Colori a placa usando Distress Ink e carimbei com um carimbo de manuscrito, com carimbeira marrom, sobre o Distress.
Usei também gaze tinturada com Glimmer Mist para dar relevo ao trabalho.
Com este cartão entro nos seguintes Desafios:
Tema Livre com costura. Desafio patrocinado pelos papéis Papeis Art'Mara, produtora de

lindos papeis .
Parte interna
Detalhe
Parte interna do Cartão!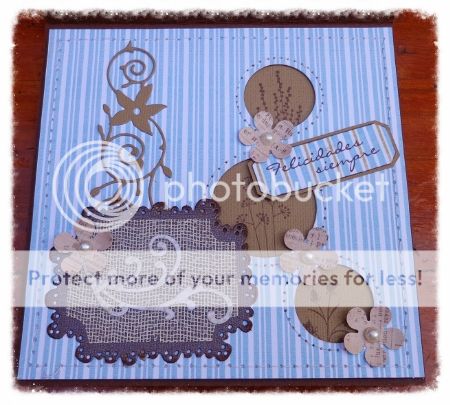 Materiais Usados:

Papéis
Cardostock liso: Toke e Crie e Stampin'Up.
Papel estampado: DCWV e listrado Digital Paper.
Carimbos
Tilda blowing hearts [Magnolia With Love Col'12 Boutique Magnolia] e Stampin'Up Sentiment e Pocket Silhouettes.
Carimbeiras
Memento preta e marrom [rich cooca]
Distress Ink Broken china
Furadores e ferramentas:
Flower Power [flor] e Gabarito de Costura [Toke e Crie]
Die cuts:
Floral Vine,

Honeysuckle Vine

e Doily [Memory Box]
Dream Tag [Magnolia Doohickey]
Creatables Frames and Swirl [Marianne Design]
Flowers: Recollections
Outros enfeites: Gaze, telinha e pérolas indústria nacional
Para colorir a Tilda: Copic Markers e Spika transparente. Caneta gel branca Signo Pen.