Está chegando o Natal, a época mas bonita do ano. Natal é tempo de partilha, de alegria e de compartilhar os desejos de paz e cultivar a esperança de um mundo melhor.
No Blog Christmas Inspirations, Natal é todo dia, durante o ano inteiro. Esta semana, estamos com o

Desafio # 12 - Shaped C

ard

. O desafio é simples: fazer um cartão usando formas inusitadas. Vale usar a imaginação. Ficaremos muito felizes se você se juntar ao nosso Desafio.
Este é o meu cartão demonstrativo. Um Trend Card, que eu adorei fazer, especialmente pela oportunidade de usar a Sparkling Tilda, uma das minhas favoritas [

SO JOLLY & UNDER MISTLETOE '0

9

, by Magnolia-Licious Store]. Também usei uma plaquinha de corte da Cuttlebug para fazer os floquinhos de neve.
E, além disso, uma combinação de cores que adoro: azul e azul.
Espero que vocês apreciem!!
CARTÃO 1: TREND CARD
Verso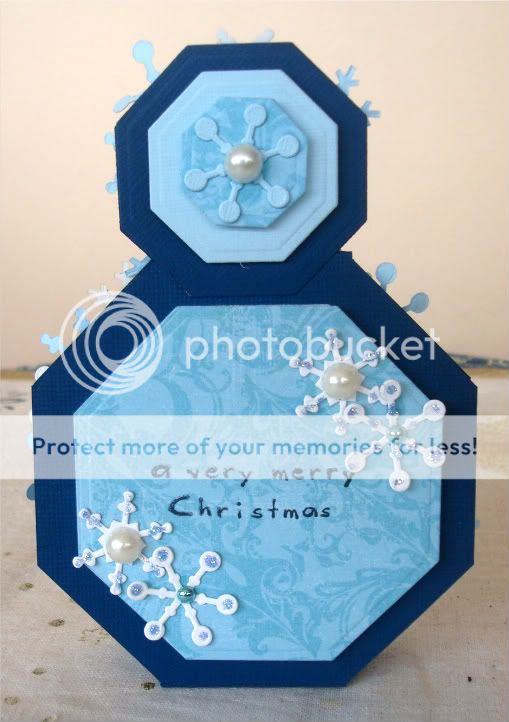 Detalhe da Montagem
Materiais:

Cardstock azul claro e azul escuro: Bazzil. Papel estampado coordenado: DCDW - Christmas Collection Glitter. Carimbo: Magnolia [Sparkling Tilda] e sentimento Close to My Heart. Pérolas adesivadas brancas [Close to My Heart] e azuis [K & Co]. Die cuts: Cuttelbug [flocos de neve] e Spellbinders [Small Octagons]. Carimbeira: Memento. Stickles [cola glitter azul]: Ranger. Copic Markers. Botões [flocos de neve]: Dress It. Papel Neenah.
CARTÃO 2
TRIBUTE TO SANTA'S
Há algum tempo tenho este carimbo Santa Collage Stamp, que é bastante raro [by Rubber Stampede, hoje fora de estoque. Trata-se de um dos carimbos de Natal mais populares em todo o mundo.
Quem o descobriu para mim foi a querida Ana Shirkey. Finalmente foi usado para este tributo a Papai Noel. Confesso: amo Papai Noel e tudo o que se refere ao Natal.
Meu tributo também foi feito para um dos desafios do Christmas Inpirations. O Desafio # 8, proposto por mim. O desafio era fazer um cartão de Natal monocromático, com direito a usar apenas uma cor adicional. Mas eu exagerei - usei branco, dourado e preto. Além da cor, o desafio propunha usar uma poinsettia - a estrela do Natal.
A minha poinsettia foi feita com furadores [Flower Power, da Toke e Crie - um dos meus favoritos].
O resultado é este: um Gatefold Card bem bacana para inspirar nosso Natal.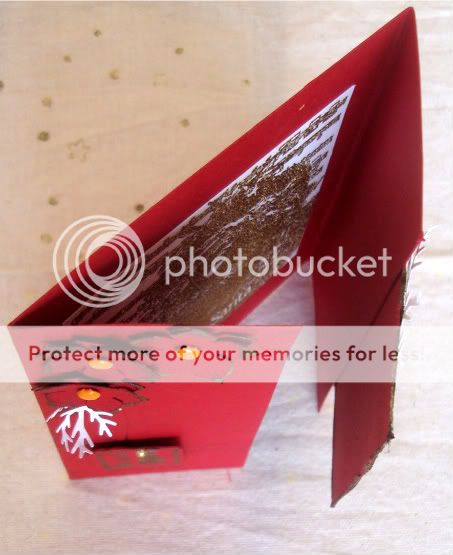 Materiais:
Cardstock vermelho e branco American Crafts. Carimbos: Santa's Collage [Rubber Stampede], Winter Post [Stampin'Up], Selo Feliz Natal [Carimboteca, by Omar Colocci] Long Wrintg Background [manuscrito - Hero Arts] e Bo Bunny Vintage Santa. Brads: Stampin'Up. Emboss dourado: Tim Holtz. Tinta acrílica dourada: Ranger. Furador Leaf branch e Lace Heart [Martha Stewart] e Tab [Stampin'Up].