Este é o nosso Desafio # 24, que consiste em produzir um cartão natalino com as cores ouro e prata.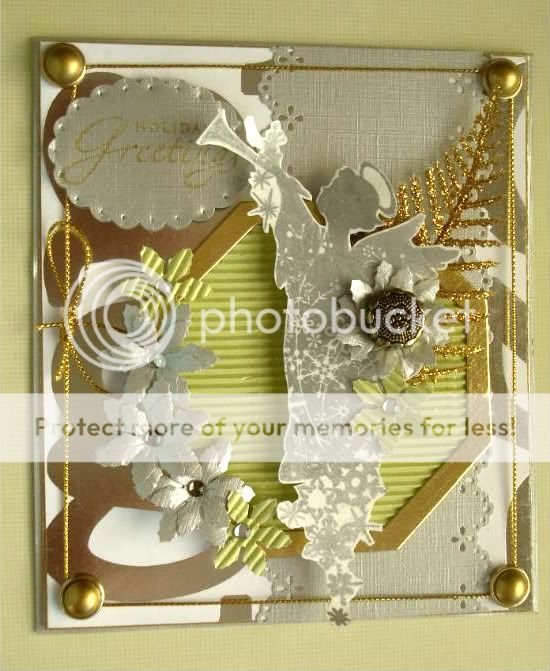 Aqui está o meu cartão: em ouro e prata.
Materiais:
Cardstock ouro e prata [indústria nacional]. Cardstock estampado com letras [Relevo Araújo]; Papel microondulado ouro velho: presente da minha amiga Angie Evans. Carimbos: Sentimento [Stampin'Up] e anjo [Inkadinkado]. Carimbeiras dourada e prateada Encore. Fio dourado para embalagem: indústria nacional. Brads: American Crats. Furador poinsettia: floral punch poinsettia small and large Nellie Snellen [by 7 Kids e College Fund]. Pedra da lua [rhinestones]: indústria nacional. Spellbinders hexagonal shape. Furador: Eyelet lace punch Martha Stweart e oval scalloped Letach Craft. Pó de emboss dourado e prateado: Ranger Inc. Folhagem dourada: indústria nacional.
Este desafio é patrocinado pela Preserved Memories e o prêmio é este lindo kit, ofertado pela Sandra.
Nosso DT preparou sugestões bem inspiradoras para você.
Venha brincar conosco e concorrer a esse mimo.
# Desafio 23: Cartão Redondo
Já este foi meu cartão para o Desafio 23 - cartão redondo.
Eu não consegui postar aqui no blog por uma falha nas configurações do mesmo.
Somente hoje consegui resolver.

Detalhes:
Cardstock verde: Bazzil e neutro [Stampin'Up]. Papel estampado coordenado e flores recortadas e sentimento: K & Co Vintage Christmas Collection. Cardstock vinho texturizado [capa do cartão]: Provo, presente da minha amiga Angie Evans.
Pérolas adesivadas Close to My Heart. Carimbo: Bells & Boughs Set [Stampin'Up]. Brads: Making Memories [vintage brads]. Barbante de juta: indústria nacional, presente de minha amiga Inô. Spellbinders: Classic Circle Scalloped e Lacey Circle. Carimbeira: Memento preta, Copic Markers e caneta gel branca [Stampin'Up].